The Road to Success is Always Under Construction
The Road to Success is Always Under Construction
https://www.southlandholdings.com/wp-content/themes/corpus/images/empty/thumbnail.jpg
150
150
Southland Holdings
Southland Holdings
https://www.southlandholdings.com/wp-content/themes/corpus/images/empty/thumbnail.jpg
Six AB Women Share Their Journey in the Construction Industry
From March 1-7, AB recognized Women In Construction Week by sharing stories of six inspiring women across our company. They shared their journey into construction, why they feel it's important for women to continue to join the industry, and advice for those entering into the field. These women and, many not pictured, have and continue to shape and influence AB's culture.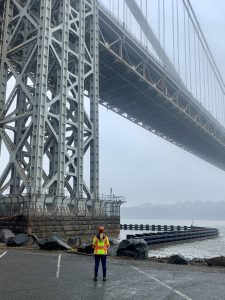 Laura Dent decided to apply to AB based on the recommendation of a fellow female engineer. She says "I had known that I was interested in bridges, but my previous internship experience was solely with design. Since my only construction experience was from working as a child, it was nice to get a positive recommendation from a woman already within the industry. I took a leap of faith and have now been with American Bridge since the spring of 2017."
Currently, she is a Field Engineer on the George Washington Bridge Upper Roadway Replacement in NY. Upon entering the industry, she was surprised to find out how much activity occurs in the background of construction projects that the public is usually oblivious to.
"When you drive across a bridge, you probably don't picture me climbing around above you or crawling around on the walkways below you. There are so many different systems, equipment, and teams of people that are in place to make sure that the world can keep on moving without interruption. Before working for American Bridge, I used to always become frustrated by construction and how much it could hold up my commute. Now when I drive by, I slow down and try to feel some appreciation for the inspectors that identified a problem, the government workers that secured the funding to fix it, the designers that proposed the solution, the construction company that made the solution manageable, the safety personnel that help keep the workers and the public safe, the construction workers that put their bodies on the line, and the field engineers – like me – that help everything move forward with quality results."
When it comes to utilizing resources to keep up with the ever changing trends in the industry, Laura recommends taking skill certification courses and taking full advantage of trainings offered through your company.
"Last year I attended American Bridge's "Field Engineer I Training" and "Qualified Basic Rigging & Signal Person Training". This year I am attending American Bridge's "Field Engineer II Training", while also going for my "CWI Certification", "NCCCO Level 1 Rigger Certification", and "ICC Bolt Inspector Certification." Training courses are a great way to keep your knowledge base fresh and gain hours towards your PE license, while also making yourself a more valuable employee for your company and industry."
Laura recognizes there are a lot of things about being a field engineering that you will have to learn in practice. "When you first start, it may seem overwhelming, like everyone is speaking a construction language that you don't understand yet. If you don't know what a tool is, ask. If you don't know what a term means, ask. If you aren't understanding what someone is trying to describe to you, have them show you or draw it in your notebook. Do not be afraid to ask your superintendent or foreman questions. Most of the time they are living for the chance to pass down their knowledge. They are usually more likely to get annoyed if you don't ask them for their opinion first. The more you talk with them, the more they will respect you and help you become a better field engineer."
When asked why she feels it's important for more women to enter into construction, she explains that it's a crucial step towards creating a more diverse workforce.
"Having a diverse workforce is critical for industries that rely on problem-solving and innovation. Research has shown that groups of diverse people will outperform groups of similar people, particularly in problem-solving scenarios. Being from a different gender, ethnicity, location, culture, etc. will have influenced the way you experienced life thus far. When trying to solve a problem, you can pull from a unique range of life experiences that others on your team might not have. Even during my three years with the company, there have been multiple instances where working collaboratively and hearing unique perspectives on a problem have made millions of dollars of difference. American Bridge's north-east sector has made great strides in recruiting women. At the field engineer level, we are practically 50/50. Things seem to be trending positively and hopefully, as time goes on, we can work on bringing those women up to higher levels within the company."
Louise Bonno started at American Bridge working on the Queensferry Crossing in Edinburgh, Scotland.
"I worked on that project from the beginning of the tower erection until the opening. That was my project after graduation, my first experience in an English-speaking country. I started as a CAD technician to support the engineering team during the preparation phase of the project, reviewing shop drawings and creating drawing work package for the field team. Then when the field operation started I moved to the field engineering team. I was responsible for offshore marine the logistic and deliveries of all cable stay material and windshield installation. This project gave me a great exposure the various aspects of the project. I had the opportunity to work with huge team of construction professionals with diverse skills, talent and experience from all over the world."
Now, she's a Senior Field Engineer on the Washington State Convention Center Addition in Seattle, WA. She manages delivery and trucking logistics from the port to the job site in downtown Seattle, crane erection engineering task plans, and provides engineering support for on-site structural steel modifications. One of the aspects she likes most about working in the construction industry is witnessing a project go from plans to reality.
She says, "The results of our effort are tangible. And our work in the construction industry benefits directly the community on their daily life. I had the opportunity to be part of a Bridge to Prosperity (B2P) project with AB in Panama and seeing how much a week of work on site can improve the safety and livelihood of that community was an amazing experience."
One way she helps to improve safety and her knowledge on projects is by keeping up with industry trends.
"Being a part of complex projects and working with highly skilled and knowledgeable people is great way to gain experience. As well as being on the field as much as possible seeing the construction process taking place and how the equipment/material are getting used and asking question. AB has a long tradition of building complex structures and integrates various training programs giving AB's young engineer the opportunity to learn more about innovative construction methods and previous experience."
Don't date the guys onsite. You can go from being respected to the main topic of job site gossip in no time.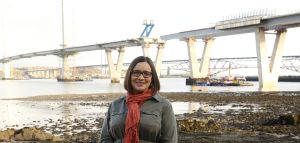 Katherine Bucek always knew she wanted to be an engineer and more specifically a Civil Engineer. The summer before attending Purdue University for engineering she decided to visit a Women in Engineering Day on Campus. The program gave a glimpse into different engineering majors in which Katherine chose Civil Engineering and Construction Engineering and Management. She says, "I thought the Civil Engineering was cool, but THEN I went to the Construction Engineering and Management session and realized I could work outside and not just have to design work. From then on I know I wanted to work in construction."
Early in her career she worked on the Skyway portion of the San Francisco Oakland Bay Bridge. However, she decided to switch directions and took a job with a tech company as a Research and Development Engineer. "After one week away from construction, I knew I had made the wrong decision and couldn't wait to get back out onsite." Katherine wants others to learn from her experience when planning for a career in construction. She says, "Summer internship/co-ops are an important way to gain experience on the jobsite and to learn what type of work you are interested in (i.e. working for a contractor, the owner, as an inspector, in project controls, etc.). Maybe you would find out being in the field isn't the right fit for you and you would much rather do design work."
Katherine joined AB upon entering back into construction and has worked on projects including the San Francisco Oakland Bay Bridge Self Anchored Suspension Superstructure, Queensferry Crossing, and South 10th Street Bridge Rehabilitation. Now, after 12 years of being with AB, Katherine is a Project Manager with the Project Services Group. She assists all projects company wide with quality, and cost and document control. "I love that at the end of the day I can say I helped build something significant and that I will be able to show these structures to my children."
As a woman in the industry Katherine strives to make a difference by showing that a woman can be out on the job site just like any man. When she entered into construction there were not many women in the field. "The hardest thing in general in my career has been getting others on the project site to see me as just another member of the team. I was annoyed by guys insisting on carrying things for me or when they would apologize for cussing in front of me. I would point out to them that these actions just reinforced that I was different from them and that this made me feel like less of a team member." She doesn't want this to deter women from entering the construction industry though. She says, "More women are joining construction through the engineering route every year. I would love to see more women in the trades out working on the jobsite."
"I believe that women are suited to working in construction because we are great multitaskers. Working out on a construction site requires the ability to take care of many things at once. Also, having a more diverse workplace allows for new and different ideas. Maybe a problem is figured out because a woman thought of something that her male counterparts would not have come up with."
Sara Horsey is AB's corporate Construction Scheduler and supports all active projects, which on a daily basis can involve monitoring monthly updates and job progress, administering the schedule database, and providing training and support to crews on-site.
As a kid, Sara dreamed of wanting to become a marine biologist. However, she quickly realized all that it would entail, including living on a research boat north of the Arctic Circle for a long duration. Once she realized this wasn't something she wanted to do, she switched gears and focused on something a little closer to home. "I grew up 15 miles from the Tappan Zee Bridge and I knew it was about time for it to be replaced, so I decided I really wanted to work on that project when it happened." She decided to move forward with pursuing a degree in Civil Engineering and gained her Bachelor of Science at Lehigh University and Masters at Virginia Tech.
Upon graduating, she took on a Field Engineer role working on the Tappan Zee Bridge Replacement. Thus making her dream a reality.  Throughout her career, Sara has held roles such as Field Engineer, Cost Engineer, and Project Controls Manager. One aspect about the construction industry she wants women to know is, "Don't think that jobs in construction fit any one description, projects are fast moving and constantly changing. If you are flexible, willing to adapt, organized and attentive to detail, and driven to get things done there is a role for you and your skills." That constantly changing environment is one of the aspects Sara likes most about working in this industry. "There's always a new problem to solve and it's rarely the same thing twice."
Because the construction and engineering industry is constantly changing, Sara uses several resources to keep up with new trends. "In addition to the obvious sources like ENR and other industry publications, don't let go of previous coworkers. Keep in touch on LinkedIn or over the phone to see what projects they are working on, and don't be afraid to reach out if you think they may know of a resource to connect you with."
Stereotypes about construction being a difficult place for women are just that – stereotypes. "Don't knock it till you try it" is as relevant here as it is in other parts of life. Look for a company culture that matches your personal values and gives you opportunities to grow.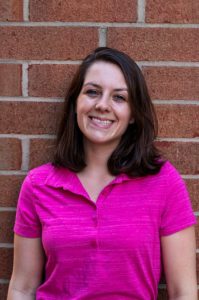 It wasn't until high school that Kathleen (Kitty) DiFalco learned about engineering through one of her favorite math teachers and decided to explore it further by taking an engineering class during her senior year.
"More importantly, in the summer before my senior year of high school, a family friend who knew I was interested in civil engineering invited me to job shadow. The family friend – Dan Mendel, later my boss –took a couple of seniors in high school to shadow his role as Resident Engineer on the Jeremiah Morrow Bridge Replacement Project – a project that consisted of constructing two cast-in-place balanced cantilever, post-tensioned concrete bridges in Lebanon, Ohio. This high school site visit later turned into 2 co-op semesters on the project with the Ohio Department of Transportation and solidified my interest in bridge construction.  Dan and the project team at JMB had a major impact on my future career in bridge construction, inspiring me to seek out contractors who build complex bridges, which led to my co-ops with American Bridge Company."
She knew that she wanted to try the contractors side of construction, but wanted a company that focused on technical growth as much as it did managerial skills. She says, "AB's established co-op program (and snazzy recruitment banner) hooked me. Following (3) co-op semesters with AB in estimating, engineering, and the field, it was natural to continue working for a company whose mission I believed in, with people who face challenges openly and develop young talent."
Kitty joined AB upon graduation from the University of Cincinnati and has been working on projects primarily in New York. She says, "I never thought I'd have a job this cool – not many people can say they stood in the middle of heavily traversed roadway or at the top of a signature bridge. Nor did I think I'd have a job that affected so many people. I am grateful to meet/interact with such a diverse array of people who are working to better the traveling public."
Currently, she is a Field Engineer on the Queensboro Bridge Upper Roadway Replacement in New York City. "Seeing as this if the first job I have been involved in for full-time employment, I'd have to say I am most enjoying working as part of the orthodeck team. There are a lot of challenges – fitting new steel to a structure that was built in 1909, logistics planning for one of New York City's busiest bridges, understanding the technical and practical ins and outs of steel orthotropic deck – but these are all challenges that make the job exciting. I am enjoying expanding my technical knowledge of steel – during erection, welding, and bolt-up planning." Kitty's advice to field engineers that just completed AB's Field Engineering Training I:
"Bring the lessons you have learned back to your jobsite – that's why they shipped you all the way out to Pittsburgh. It is possible to be a leader on the team even if you are not in charge. When looking for ways to grow, look to the AB team around you for ideas and inspiration. Keep track of not only your achievements but lessons learned. Lift as you rise. When creating task plans, be thorough and keep the end audience in mind, especially when drafting sequence drawings for the field. More often than not, you will be given the respect you earn, and that usually comes from hard work, honesty, humility, a willingness to learn, and the ability to listen. Be mindful when crafting your short- and long-term goals. Be honest with and seek the input of your supervisor or AB mentors about these goals. Find people (friends and mentors) within the industry who will challenge you and hold you accountable."
When asked how she thinks women can plan for a career in construction she says there are various ways.
"Outside of school, DIY in your parent's garage; volunteer opportunities such as Habitat for Humanity; learning the history of construction/structures through books and documentaries.
In school, the best preparation comes from on-the-job experience. This includes internships and co-ops. The best decision I made was going to the University of Cincinnati, a university that requires (5) semesters of co-operative education. In each semester, I had the opportunity to try out a different part of the industry to see what worked best for me. Additionally, by alternating work and school semesters, I was able to choose coursework according to better support the work I completed in the work place.
In college, take part in the engineering and construction student groups – this includes going on job site visits, participating in networking events, competing in estimating competitions, building canoes made from concrete, and countless other activities."
Having only been industry full time for a year and a half she says it's hard to tell if there are any more opportunities for women today. However, on her project there are six women and four of them are field engineers. "The construction industry, especially American Bridge, attracts high-performing and ambitious people which includes women. In the last 5 years, I believe the number of opportunities for women in construction has remained the same but the interest in construction has gone up." She would love to see women hold more roles within every position. "More specifically, I'd like to see more women in craft – with the current shortage in the labor force, now is the time for women to step in, fulfill a need, and work towards leadership roles within unions. Additionally, I would like to see more women within the industry at varying levels of formal leadership – including Project Engineers, PM's, and other executive positions. Field engineers – male and female alike – can benefit women in positions of mentorship."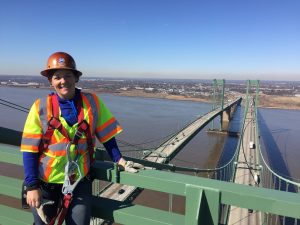 There are challenges and you'll always run into someone ignorant that doesn't think women belong, but they are in the minority. Construction is a really fun industry and you'll never be bored at work.
Kara Mullin didn't always know she wanted to pursue a path in construction. At Virginia Tech she majored in civil engineering and had a mentor in the program who was a project manager at Whitting Turner. "She was pretty motivating in my decision. She was poised and confident and ran big projects."
As Project Manager on the Edmonton Valley Light Rail Tawatina Bridge Project, Kara says this has been the most challenging and rewarding project for her.
"I was called up to the project in a pinch when the PM was leaving. This is my first project as PM and I stepped into the role that was filled by a very competent and well-respected PM. There was definitely a transition period when I started."
For her, a day on the job consists of  getting to work around 6:30 am for a team meeting, then a safety meeting each day. "Each day is different from here. I always have meetings to attend, issues to sort out, and working planning to do. I'm generally the main point of contact with the client." However that's one of the aspects she likes most about the construction industry, "It's very dynamic and fun. The days are long, and the work is hard and at times frustrating, but you develop really great relationships with your coworkers."
When asked what the biggest obstacle she's had to overcome throughout her career she says, "There's a delicate balance that women have to walk. You can't be too assertive and you can't be too passive. If you speak your mind too much, you're labeled negatively. If you are too easy-going and let others make decisions for you, you're not respected. This is a balancing act that women in construction deal with consistently. You also can't be too feminine, but you can't be too masculine either. You have to strike a balance that's amenable to those around you." However, she feels that the barriers to enter into construction have diminished. "Previously it was really intimidating (in my opinion) to come on a job site and attempt to find your place as woman. People weren't as welcoming, but a lot of that attitude isn't seen as much."
"I would like to see more women in every role on the project site. The project I'm on currently has women in more roles than I've seen previously. Have different perspectives in a collaborative environment makes the team stronger. It's been frustrating as I advance in my career and the number of women I see in leadership roles diminishes. While on the project site, there are women in trades, engineering roles, and working for vendors, but when you get into executive meetings or dealing with directors, VPs, or managers there are rarely any women participating – especially in technical roles. I've sat in on many meetings as the only woman present. I'd like to see this change. The atmosphere is getting so much better as time goes on."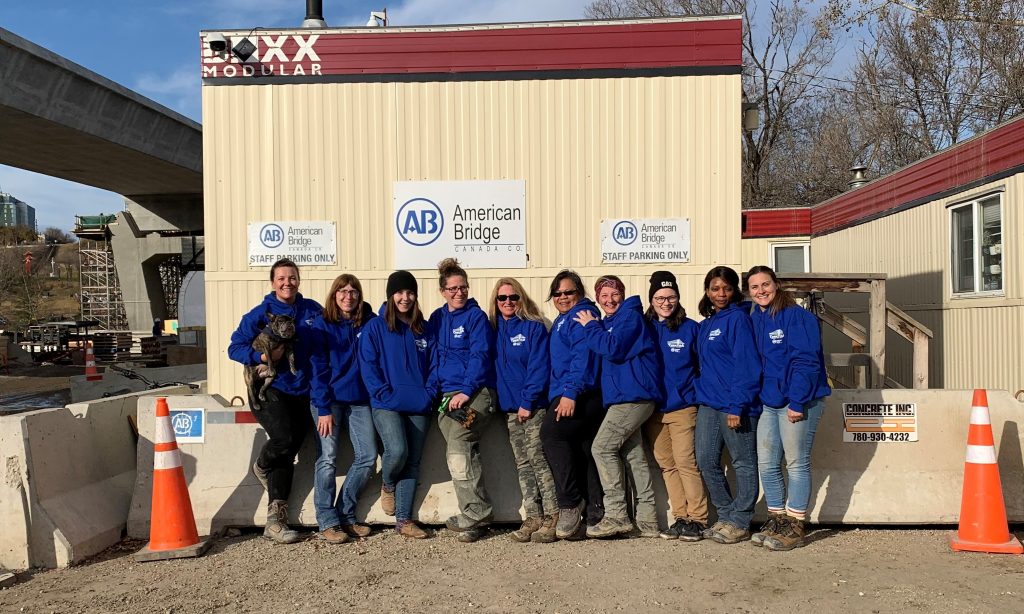 Lean on your coworkers. No one knows everything, but there's so much knowledge and experience from those within the company. People are always willing to help and are invaluable resources.