Reuse Pipeline and Diffuser to Lake Lanier in Gwinnett County, GA – Featured Archive
Reuse Pipeline and Diffuser to Lake Lanier in Gwinnett County, GA – Featured Archive
https://www.southlandholdings.com/wp-content/themes/corpus/images/empty/thumbnail.jpg
150
150
Southland Holdings
https://www.southlandholdings.com/wp-content/themes/corpus/images/empty/thumbnail.jpg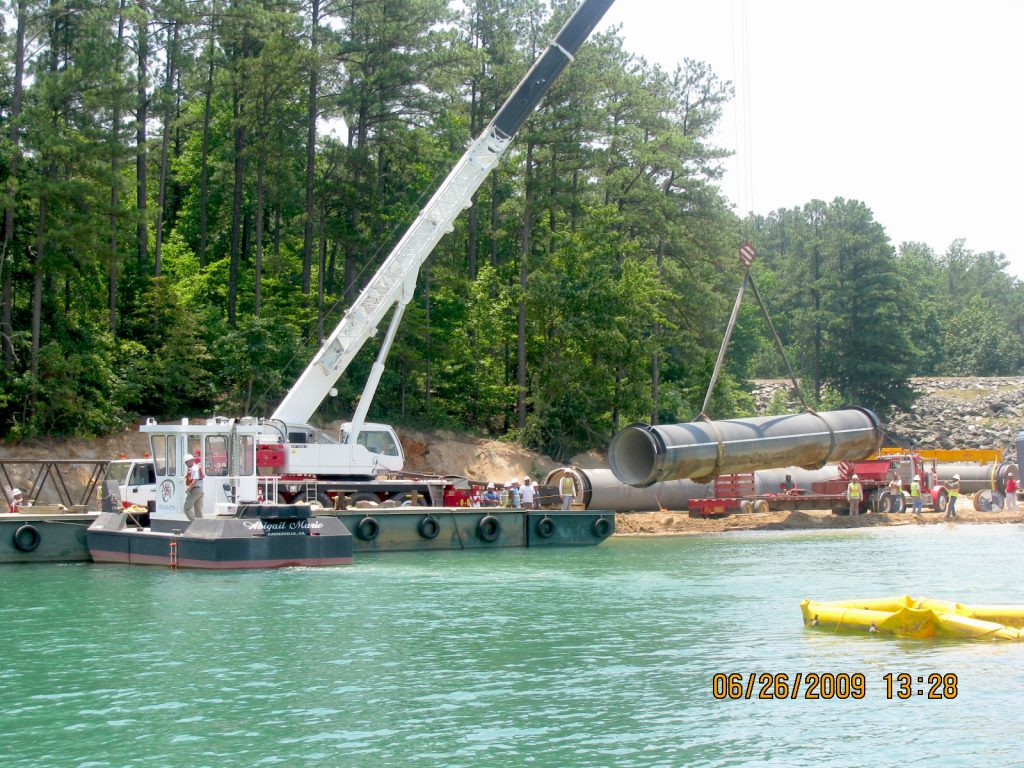 Reuse Pipeline and Diffuser to Lake Lanier
The Lake Lanier Reuse Pipeline and Diffuser Project was completed by Oscar Renda Contracting in 2010. The $25-million project aimed to enhance Lake Lanier's environmental sustainability. The Army Corps of Engineers imposed stringent permit restrictions, particularly regarding the pipeline's elevation, to mitigate disruptions caused by the reservoir's water level fluctuations. ORC installed a 54″ force main that lead to a Pressure sustaining/reducing vault that ultimately discharged reuse water over a mile into the lake.
Constructed in the floodplain area, the vault posed unique challenges, demanding the deployment of cofferdams and advanced dewatering techniques. The valve vault excavation reached a remarkable 53′ below the ground surface, utilizing innovative engineering methods such as sheet piling, soil nails, and shotcrete to ensure structural integrity.
Beyond the vault, a 72″ pipeline extended into the lake, requiring a strategic combination of a barge, cofferdam, and trestle system to navigate the land/water interface. Negotiating a complex 5,600′ underwater path, ORC utilized sectional barges with cranes, divers, and excavators. With the lake reaching up to 110′ in depth, the project needed precisese dredging that was guided by divers.
The installation of the 72″ steel pipe showcased meticulous engineering. Large spreaders connected to cranes were used for secure bedding, and a vacuum system, guided by divers, played a crucial role in pulling the pipe into place. The Lake Lanier Diffuser project marks a historic project in ORC's history, and has contributed significantly to Lake Lanier's environmental sustainability, leaving a lasting positive impact on the community and ecosystem.