Southland Corporate Brochure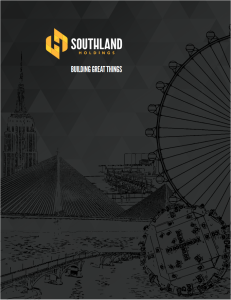 Building Great Things. For more than 120 years, hard-working,
honest, innovative people have been forming what has
become Southland. We combine the strengths of
five subsidiaries that share a dedication to delivering critical
infrastructure projects that improve the environment and lives
of those around us. Across all 50 states and more than
60 countries, you can find the mark of our legacy.
Throughout Southland's history, we have laid roads
that connect our nation, constructed pipelines to carry water
across vast regions, built some of the world's most iconic
structures, and bored tunnels through some of the world's
most challenging geology. We deliver projects that shape our
landscape and create sustainable solutions for future generations.
Our values create the foundation on which we operate. A passion
for finding solutions, a dedication to safety, and care for our
employees – these are the things that make Southland
a family of companies. The people who chose to work here are
our most valuable asset and provide the essential link between
challenges and answers. As a values-based firm, we invest in
our team and encourage innovation, creativity, personal and
professional development, and teamwork.
So, learn more about how we're building great things.
View Link