Queensboro Bridge Project Spotlight
Queensboro Bridge Project Spotlight
https://www.southlandholdings.com/wp-content/themes/corpus/images/empty/thumbnail.jpg
150
150
Southland Holdings
Southland Holdings
https://www.southlandholdings.com/wp-content/themes/corpus/images/empty/thumbnail.jpg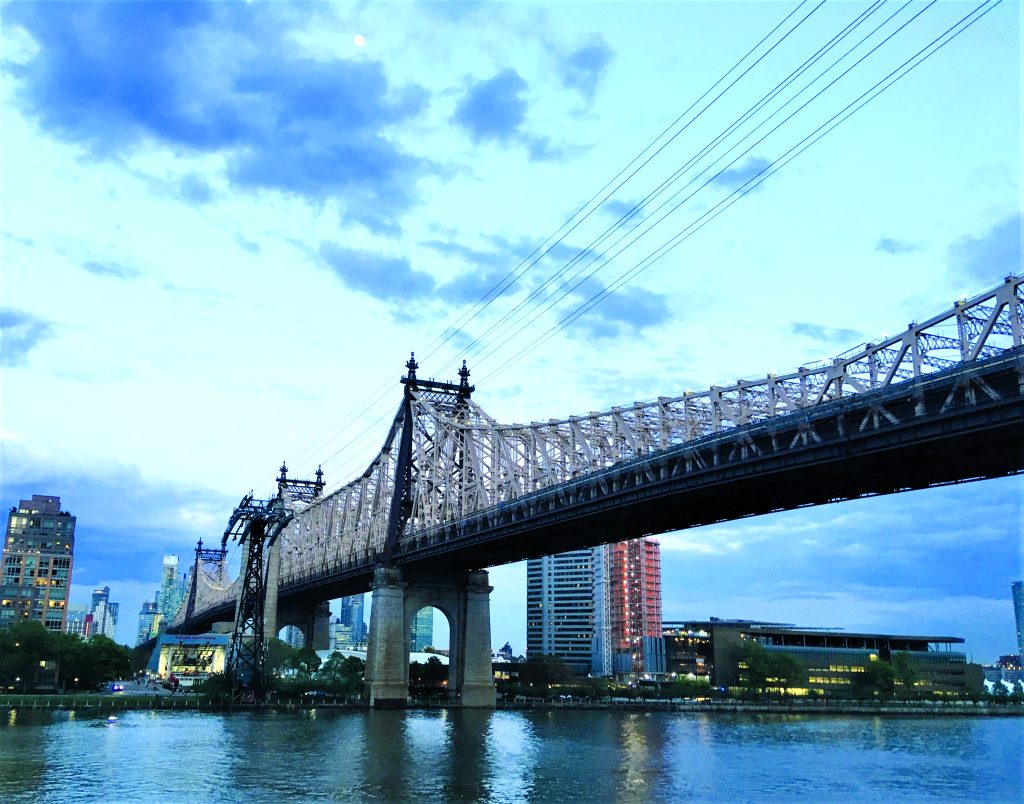 American Bridge crews are to start on Phase 3 of the Queensboro Bridge deck replacement project. They secured the project in 2018, and are looking to deliver the completed project by Summer 2024.  
American Bridge (AB) has a long history of building or retrofitting some of the most complex and ionic bridges in the New York City Area, and are currently half-way through the replacement of the upper roadway of the Ed Koch Queensboro Bridge for the New York City Department of Transportation. The $300 million rehabilitation project spans 1 1/4 miles connecting the boroughs of Queens and Manhattan, and will extend the service life of the historic bridge for another 75 years.   
AB is replacing the existing concrete filled steel grid deck on the upper roadway with a new steel orthotropic deck, a new methacrylate polymer overlay, and new modular expansion joints. AB is also performing extensive structural steel rehabilitation, barrier replacement, dry fire standpipe replacement and more. AB is responsible for all maintenance and protection of traffic (MPT), extensive coordination of existing shared use path, and construction means and methods for work in this congested corridor, with extremely limited staging and storage. This project will  not only extend the upper deck service life but also increase fire suppression capabilities, and ease impacts of ongoing maintenance for NYCDOT (New York City Department of Transportation) and users while reducing the need for future maintenance.  
 The Queensboro Bridge opened to traffic in 1909 and at the time was the longest cantilever bridge in the United States, but has since reached the end of its service life, due to increased NYC traffic congestion, increased vehicular and truck weights, and over a century of wear and tear, fatigue and corrosion.Average weekday traffic consists of 180,000 vehicles, and more than 37,500 cyclists and pedestrians. The bridge has lower and upper levels, with the upper level having four traffic lanes to accommodate both commuters and buses at rush hour.  
"This bridge is a crucial link and we are replacing one single roadway lane at a time while maintaining traffic in the other three (3) adjacent upper roadway lanes," said AB Vice President Kwadwo Osei-Akoto, whose jurisdiction is the NYC area, and where for the past 33 years, he has been associated with major bridge projects. "We are used to that, but being in the heart of NYC, with very limited staging and storage areas, the biggest challenges are the significant logistical and access constraints, which are further complicated by the very limited number of lane closures allowed by NYCDOT."     
The project is divided into four phases – each one being the complete removal of the existing concrete filled grid deck and replacement of a single lane with a new steel orthotropic deck. So far crews have replaced two of the four lanes. The new steel orthotropic deck is being fabricated in Pennsylvania, and is being trucked to the job site. In total, 396 individual deck panels will be connected to the existing steel superstructure. The installation calls for them to be splice bolted and field welded in place to create a new, lighter, more durable deck system, extending the service life of the bridge by more than 75 years.      
Kwadwo Osei-Akoto, AB's VP for the NYC area, says he is pleased with how the management team and crews are taking the various challenges in stride.  At peak construction for Phase 1 and 2 there were close to 200 AB and subcontractor personnel on-site.  For each phase of the Queensboro Bridge, AB can permanently shut down one lane and temporarily close an adjacent one during off-peak hours during the day and night.  The equipment needed to complete  this work requires multiple lane closures to complete the work before returning one of the lanes to NYC traffic.  Essential to the success of the project is state-of-the-art equipment, and AB is utilizing two custom designed overhead crane gantries and automatic welding machines to field weld all of the deck joint splices.   
  "Designing the gantry cranes was a big challenge, but they are working really well. They move about on a rubber tire system, and can move both longitudinally and transversely to set the panels in their exact location. It's very tough to move them, along with the other equipment, but we found solutions" said Kitty DiFalco, Senior Field Engineer on the project.  
"We placed a concrete barrier along the entire length of the lane to separate our work area, and to protect the workers.  When we get the extra lane, you have to do everything possible in the time you have before returning it to traffic. You have to stage your trucks and deliveries, get your equipment and get your crews to work fast and efficiently, to return the lane to traffic before 'peak' hours," said Adam Reichard, Project Engineer on the project.      
In addition to traffic, the logistical demands of bringing oversized materials and equipment in out of the work site, and operating equipment in tight spaces are challenging.   
 'We work closely with NYCDOT regarding street closure notifications, and have brought in local permitting specialists that run daily traffic simulations, ensuring oversized truck loads can safely navigate the tight city streets," said Andre Markarian, Project Manager.   "Once the panels arrive in the lane, it takes a few hours to erect them and bolt them down. We have very good operators and ironworkers that make this work look easy." 
The project team, with the assistance of AB's in-house engineering department, has combed through thousands of as-built records to recreate the bridge loading models, and analyze the unique member demands imposed by cranes, trucks, and gantries.  
While analyzing the existing members for adequate structural capacity, it was essential that a detailed as-built be developed by locating the precise locations of existing members and rivets, as the new orthotropic deck connections rely on the existing bridge superstructure to connect to. This was achieved by performing a 3D scan of the existing bridge, using cutting edge technology to process millions of raw survey data points, into a usable format, to incorporate the as-built dimensions into the new steel shop drawings.  While previous AB projects have made use of 3D scans, they were not as detailed.   The scan data was used to ensure that all of the newly fabricated steel could be connected to the existing structure.  "Over half of the deck panels have been installed to date without any fit-up issues.  It fit like a glove," said  Mike Mejaki, Project Engineer. 
After the deck panels are erected and bolted to the existing structure, nearly 3 miles of field welding is required to splice the 396 individual orthotropic deck panels together.  AB employed highly skilled welders and inspectors to ensure that all of the complete joint penetration (CJP) welds are completed to the highest quality standards, and meet all applicable NYCDOT specifications and project requirements.  "Field welding deck plates is not an easy job, and requires personnel working on their hands and knees for weeks at a time to prepare, weld, grind and inspect the joints" says Mathew Balog, a Senior Field Engineer and Certified Welding Inspector responsible for overseeing the welding scope of work.  
"The AB team assigned to the project brings together both industry veterans with invaluable experience and insight and recently hired college graduates willing and able to gain experience through the hands-on process of rebuilding America's ageing infrastructure," said Osei-Akoto.