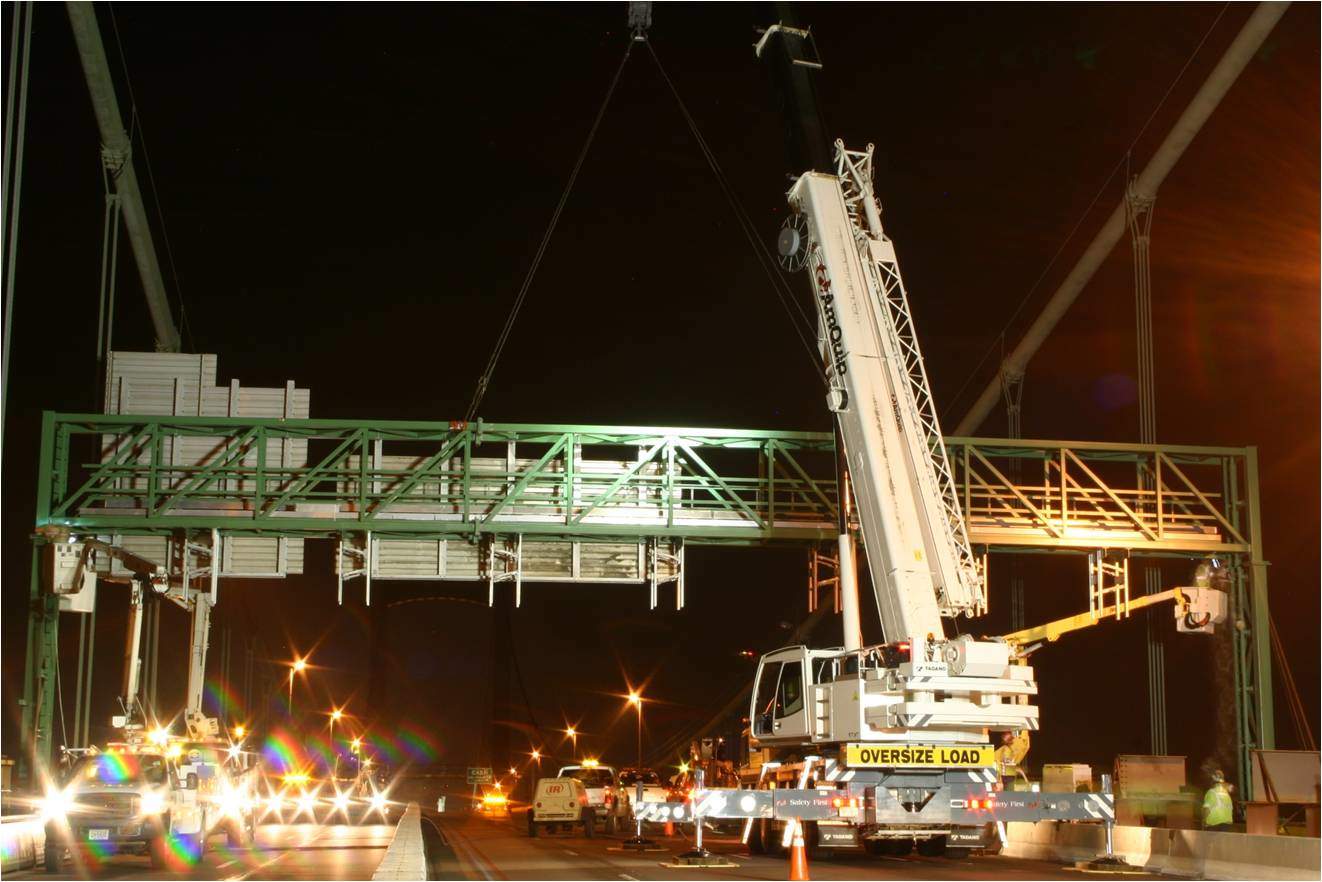 The Walt Whitman Bridge Suspension Spans and Anchorage Spans Deck Replacement project included the rehabilitation of a seven lane, two tower suspension bridge spanning the Delaware River between Philadelphia, Pennsylvania and Gloucester, New Jersey. American Bridge was awarded this contract after submitting the lowest bid.
American Bridge was responsible for the replacement of the deck with a new, partially filled steel grid system on the suspension and anchorage spans, and signal gantries. American Bridge installed a suspended span lateral brace system and all stringers as well as a new movable barrier system. The floor truss was strengthened and new bearings and finger joints were installed.
The Walt Whitman Bridge, due to its urban location, has an average daily traffic volume of over 120,000 vehicles – more on summer weekends. Because of the high traffic volume, the roadway deck replacement was performed under highly restricted daily lane closures. American Bridge erected a temporary lifting gantry system across all 7 lanes of traffic to ease congestion during construction. The $130M project was completed in April 2014.
American Bridge installed the cable system on the Walt Whitman Bridge during its original construction in the 1950's. The main cables were airspun from 37 strands of 308 wires each for a total of 11,396 wires per cable. The cable diameter is 23 3/8" not including the wrap. The wires are #6 gauge. The scope also included the saddles, cable bands, handrope, and the suspender ropes supply and erection.
Project Details
Owner: Delaware River Port Authority
Location: Philadelphia, Pennsylvania
Project Value: $130M
Completion Date: April 2014
Structure Type: Bridge
Delivery Model: Design-Bid-Build