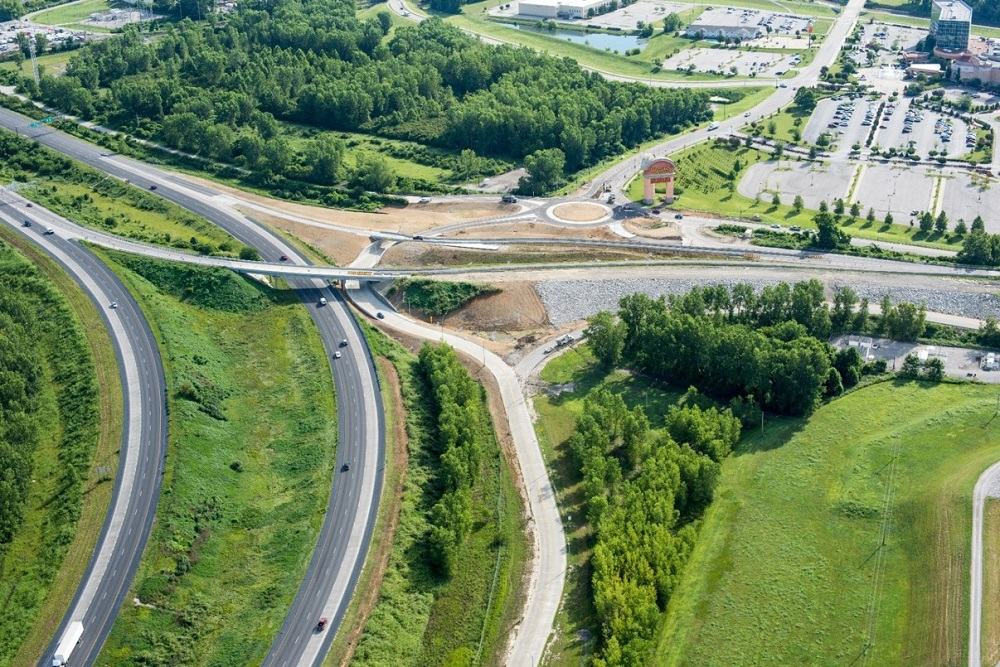 In July 2014, American Bridge was selected as general contractor for the new US-69 Missouri River Bridge that is replacing a pair of existing through truss spans originally built in 1933 (southbound) and 1957 (northbound). Spanning its namesake river outside of Kansas City, Missouri, the new bridge was selected by the Missouri Department of Transportation (MoDOT) for a design-build procurement process. Working with designer Garver Engineering, American Bridge beat out three other competitors with a carefully-crafted proposal that earned MoDOT's first ever perfect score on a design-build pursuit. The project requirements included: a new river crossing with four 12-foot lanes, a shared use path, meeting minimum clearances for railroad and navigation traffic and other permitting requirements, improvements to two intersections, and maintaining traffic during the bridge replacement.
The replacement structure consists of a 2,155-foot river bridge comprising a 1,350 foot continuous steel girder unit and an 805 foot pre-stressed concrete girder unit. The steel unit contained seven girder lines, with web depths of up to 12 feet and spans of 315', 305', 420', and 310'. The tall girder sections required careful construction engineering to ensure stability during erection. Foundations for the bridge are 10.5, 9, and 7.5 foot diameter drilled shafts installed with rock sockets into bedrock with a total length of up to 120 feet. Driven H-pile foundations on spread footings were also utilized on concrete girder unit and abutments. The river bents (piers) used an integral strut and drilled shaft arrangement to handle vessel collision loading while minimizing construction costs.
As the design build contractor, American Bridge is responsible for overseeing all design, bridge construction, procurement of all necessary permitting (USCG, USACE, Railroad, and levee districts), project QA/QC, grading, drainage, paving, retaining walls, and roadway features including roadway maintenance during construction.
Project Details
Owner: Missouri Department of Transportation
Location: Platte County, Missouri
Project Value: $72M
Completion Date: June 2017
Structure Type: Plate Girder
Delivery Model: Design-Build