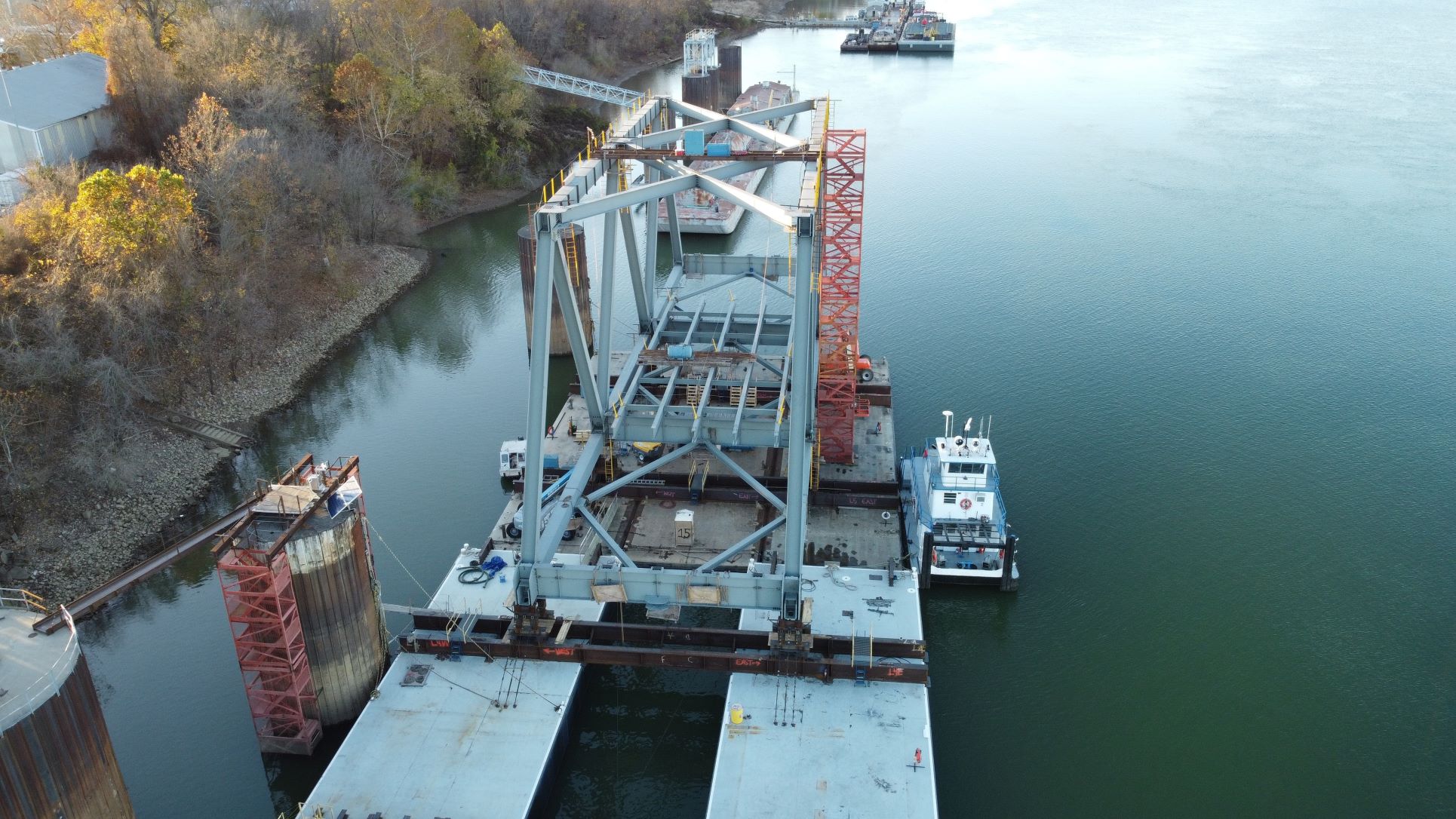 American Bridge is assembling a 700-foot truss bridge that will replace the existing US-60 bridge over the Cumberland River. AB's scope includes barge deck reinforcement, falsework and gantry assembly, truss construction, disc bearing installation, float-in and lift of the structure using strand jacks. Crews are using part of the Paducah-McCracken County Riverport Authority's facility and the riverport's Comansa crane to assemble the new truss on barges. The primary structural steel elements include 5.2 million pounds of top and bottom chords, floor beams, diagonals and laterals, stringers, stringer bearings, and portal struts, and traction frames.
In total, AB will complete the truss erection in 11 stages with an estimated 280 picks working from erecting the center of the truss to the outside. Maintaining geometric control is one of the biggest challenges with constructing a truss on barges rather than fixed supports. To accomplish this, AB developed a sequence for ballasting the barge. Ballasting will help equalize the barge as more weight is added throughout the 11 stages. In addition, AB is also overseeing the painting of the truss span. Once complete, the structure will be floated up the Ohio River on barges and lifted 90-feet onto the bridge piers using strand jacks.
AB is working closely with Jim Smith Contracting, Kentucky Transportation Cabinet, Paducah-McCracken County Riverport Authority, and Greater Paducah Economic Development to achieve successful project completion.
Project Details
Owner: Kentucky Transportation Cabinet
Location: Smithland, Kentucky
Project Value: $18.2M
Completion Date: October 2022
Delivery Model: Bid-Build
Structure Type: Truss