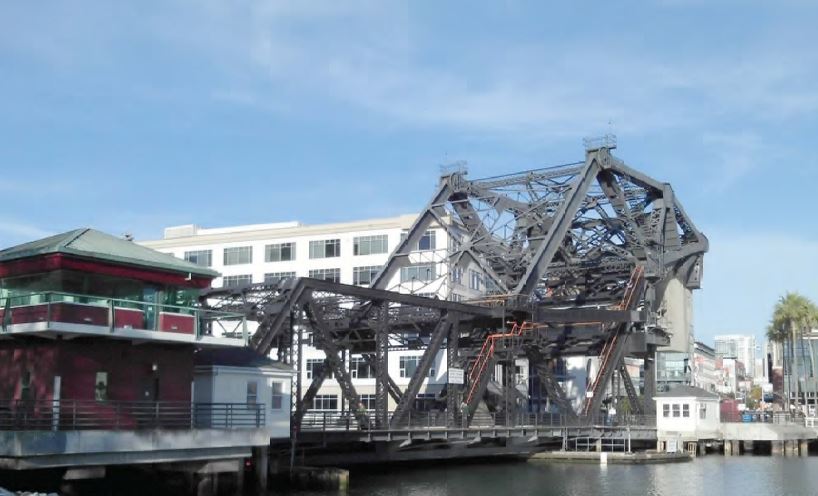 The Third Street Bridge, also known as the Francis "Lefty" O'Doul Bridge, crosses over Mission Creek Channel and links the South of Market and Mission Bay neighborhoods in San Francisco, California. At approximately 295 feet long and 80 feet wide, Third Street Bridge supports five lanes of traffic and pedestrian walkways on each side. As a busy arterial for vehicles, pedestrians, and cyclists, the draw span lifts to allow boats to navigate through Mission Channel to access the upstream harbor. During events, such as San Francisco Giants baseball games, it is adjusted to accommodate the increase in foot traffic.
The bridge has been in service since 1933 and AB's scope covered extensive rehabilitation, cleaning and painting, and fender system and substructure repair. One of the major project challenges was the requirement to limit impacts to traffic during rehabilitation work. To counter this, AB engineered and installed a temporary platform under the bridge after performing a thorough analysis and gaining approval from the owner. AB also reduced delays by shifting permitted closures to overnight increments.
AB's scope also included mechanical, electrical, and control repairs associated with operations of the bridge. This project has received multiple awards, including the San Francisco Public Works Project Team of the Year and the IPI Partnered Project Ruby Level Award.
For more information, please visit the San Francisco Public Work's project website.
Project Details
Owner: San Francisco Public Works
Location: San Francisco, California
Project Value: $27.3M
Completion Date: March 2020
Structure Type: Bascule Bridge
Delivery Model: Rehabilitation