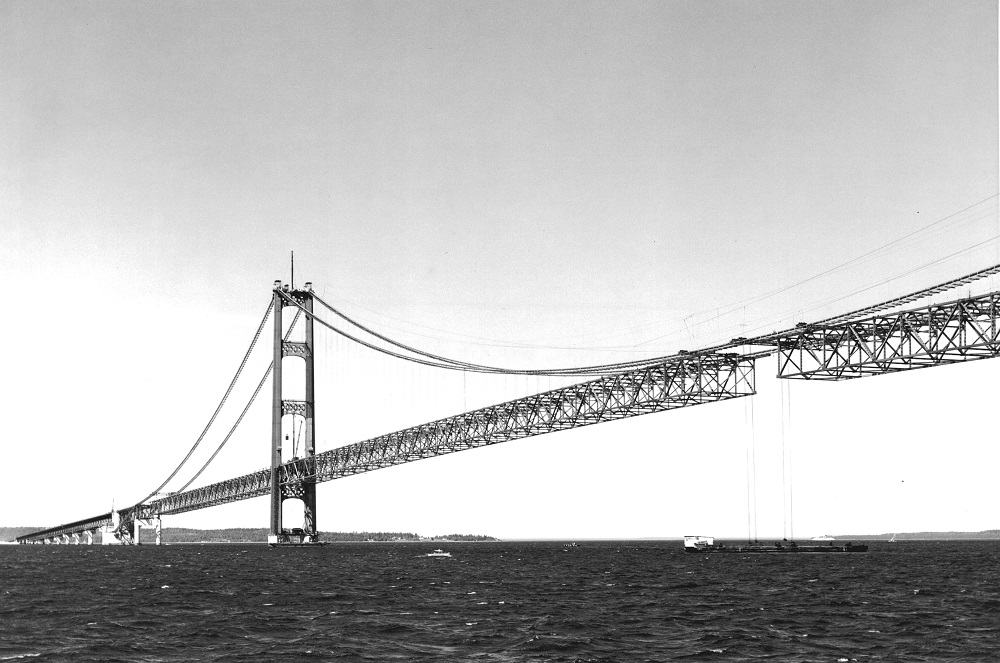 Since the late 1800's, a way to connect Michigan's upper and lower peninsulas was an almost unimaginable feat. In 1953, after decades of planning, designing, and dreaming, financing for the Mackinac Bridge was finally obtained. American Bridge fabricated and erected the entire 52-span bridge that stretches 18,343 feet across the Straits of Mackinac, a notoriously unpredictable stretch of water that reaches depths of over 100 feet. With a total structural steel weight of 66,000 tons, the bridge contains 35 deck truss spans, 14 steel plate girder spans, and a 7,400 foot three span suspension bridge with a 3,800′ main span. The main cables are 24.5 inches in diameter, made from 37 airspun parallel wire strands of 340 wires each and draped over two 552-foot-tall towers. The cable weight is 11,800 tons. This crossing, featuring the longest suspended structure in the United States, was completed by American Bridge in 1957.
In 2002, AB was contracted for the removal of six existing maintenance travelers, removal and replacement of 14,800 linear feet of traveler rail in the suspended spans, replacement of expansion joints in existing truss span traveler rail in 10 locations, and furnishing and erection of eight new maintenance travelers. American Bridge also self-fabricated all traveler rails.
The Mackinac Bridge was elected a National Historic Civil Engineering Landmark on August 12, 2010, by the American Society of Civil Engineers to recognize and encourage preservation of landmarks, and to promote historical awareness of civil engineering. Measured by total suspended span in a single structure, the Mackinac Bridge was the longest suspension bridge in the world when completed in 1957.
Project Details
Owner: Mackinac Bridge Authority
Location: Mackinaw/St. Ignace, Michigan
Completion Date: November 1957
Structure Type: Bridge
Delivery Model: Design-Bid-Build (D.B. Steinman)