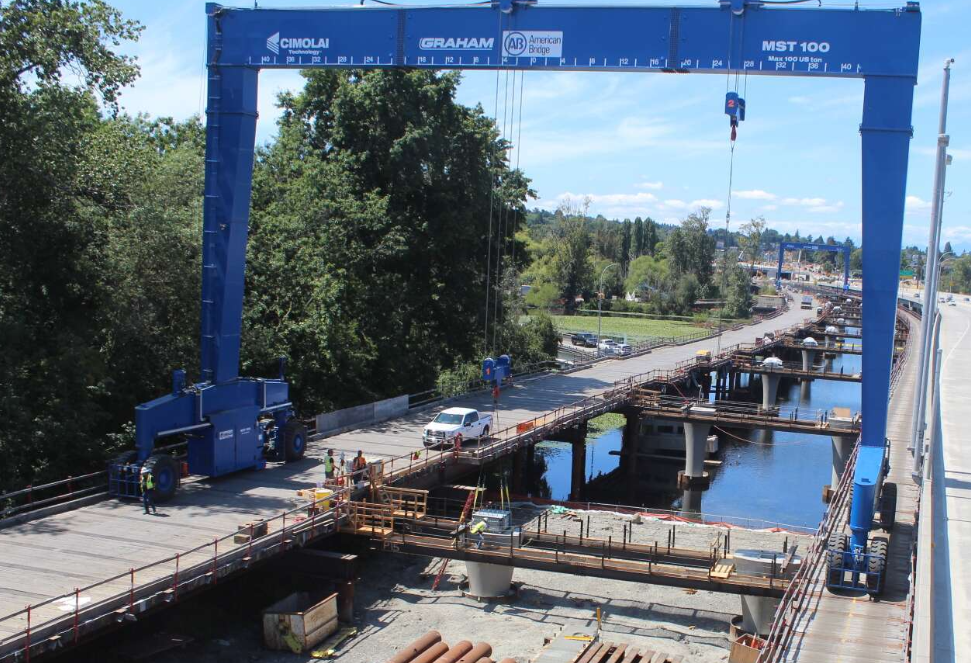 The SR 520 / Montlake to Lake Washington I/C and Bridge Replacement Project in Seattle, Washington is one of several large construction projects that is a part of the SR 520 Bridge Replacement and HOV Program. This project replaces windstorm and earthquake vulnerable structures while improving the environment, mobility, and safety.
The Montlake Phase construction began in 2019 and includes:
West Approach Bridge South: Replacement of the existing bridge with a new, stronger, three-lane bridge that carries eastbound traffic from Montlake to the new floating bridge.
Montlake Interchange and lid: Replacement of the existing Montlake Blvd / SR 520 Interchange, construction of a landscaped lid with open space, direct-access bus ramps, transit plaza, and multimodal connections.
Bicycle / Pedestrian Land Bridge: Construction of a shared-use pedestrian/bicycle bridge over SR 520, east of the Montlake lid.
AB is leading the work associated with the West Approach Bridge South. One of the main goals for this section is to decrease environmental impacts. During the proposal phase, the team developed an innovative trestle construction sequence that reduced pile quantity by approximately 25% compared to original estimates.
For more information visit the WSDOT Project Website.
Project Details
Owner: Washington State Department of Transportation
Location: Seattle, Washington
Project Value: $140M
Completion Date: 2023 – 2024 (est.)
Structure Type: Bridge
Delivery Model: Design-Build