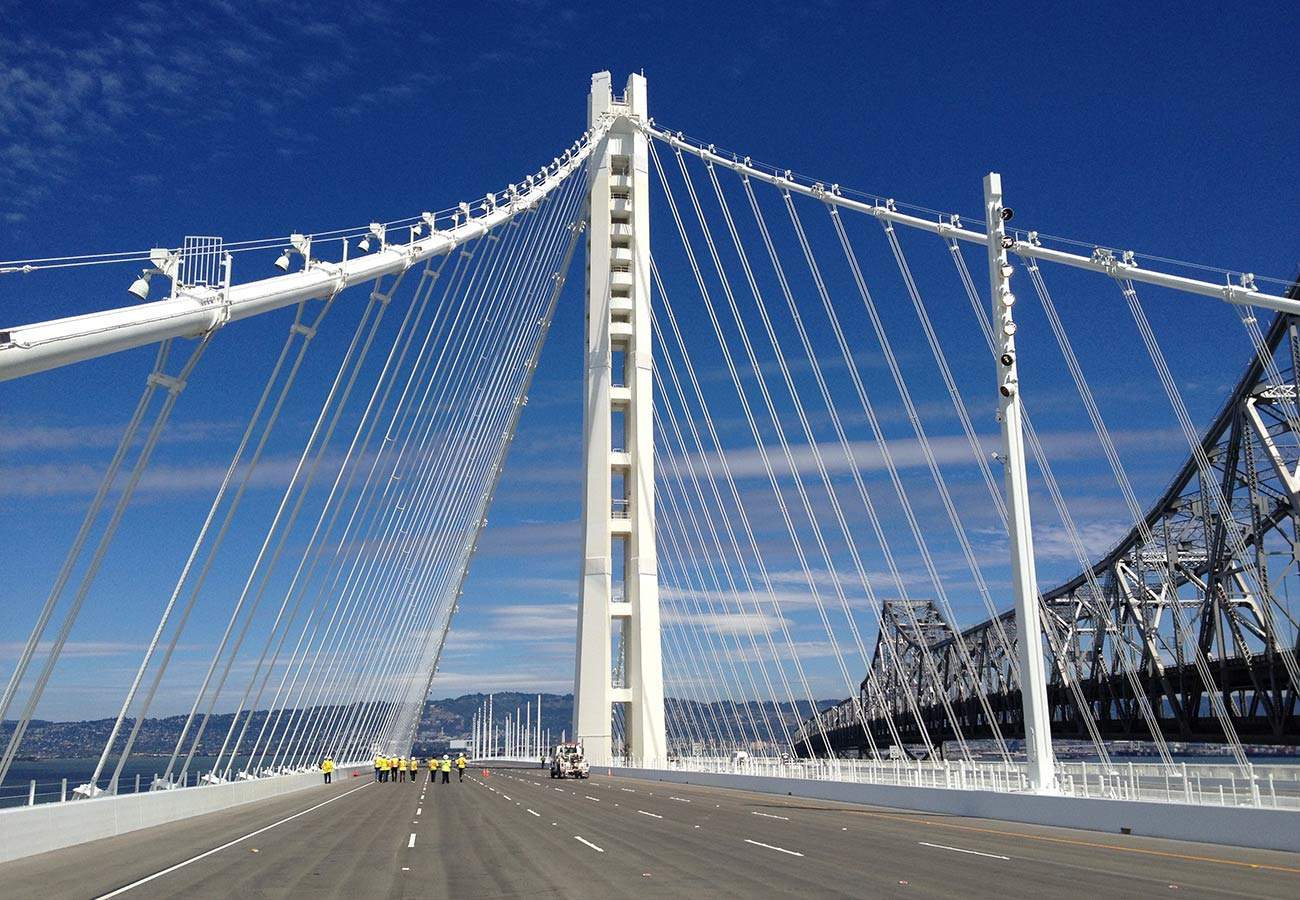 ABFJV, a joint venture between American Bridge and Fluor, began constructing the San Francisco-Oakland Bay Self-Anchored Suspension Span (SAS) in 2006, officially starting the largest public works contract in the State of California's history. The 2.2 mile East Span contains two sections – the SAS, and a 1.2 mile long Skyway viaduct. With a main span length of 1,263 feet, SAS is the longest, single-tower, self-anchored suspension bridge in the world. The new bridge has a 1,854 foot suspended span, a 591 foot side span, a deck over 197 feet wide and a 4,600-foot long main cable. The deck is composed of twin steel boxes of 92 feet each, strutted together for an out-to-out width of over 197 feet. In addition, there is a 17 foot-wide bike path that is cantilevered from one of the boxes. The deck panels are of varying lengths and weigh between 500 and 1,550 tons each. The total structural steel weight of the deck is 34,000 tons. The new East Span crosses a secondary navigation channel to the Port of Oakland and had to be constructed in extremely close proximity to the old bridge, which was constructed by American Bridge in 1936.
Seismic Technology
A self-anchored suspension bridge differentiates from the conventional type by having a one cable, rather than two, continuously looping around the decks of the bridge. Engineers designed the new structure to have the ability to sustain higher traffic volumes and potential earthquake damage.
SAS has one single cable that anchors around the decks at the Eastern end, loops over the tower, and wraps around the decks at the Western end. The 118-mile-long cable is comprised of 137 2 ½ -inch strands, each of which contains 127 steel wires. All together, this single cable weighs nearly 10.6 million pounds.
This unique San Francisco structure is joined by a single tower held up of four separate legs. Shear link beams, pieces that connect the four legs of the tower, are designed to move separately and absorb shock during earthquakes. These beams were created in order prevent potential damage to the main structure and are able to be removed and replaced if damage should occur.
Built to Last
The new East Span of the San Francisco-Oakland Bay Bridge has been engineered to withstand the largest possible earthquake that may occur in the upcoming years. Built to last 150 years, the SAS required nearly 67,000 tons of steel for its superstructure. Nearly seven years after starting construction, the San Francisco-Oakland Bay Self-Anchored Suspension Span was completed in 2014.
Project Details
Owner: California Department of Transportation
Location: Oakland, California
Project Value: $1.9B
Completion Date: February 2014
Structure Type: Bridge
Delivery Model: Design-Bid-Build