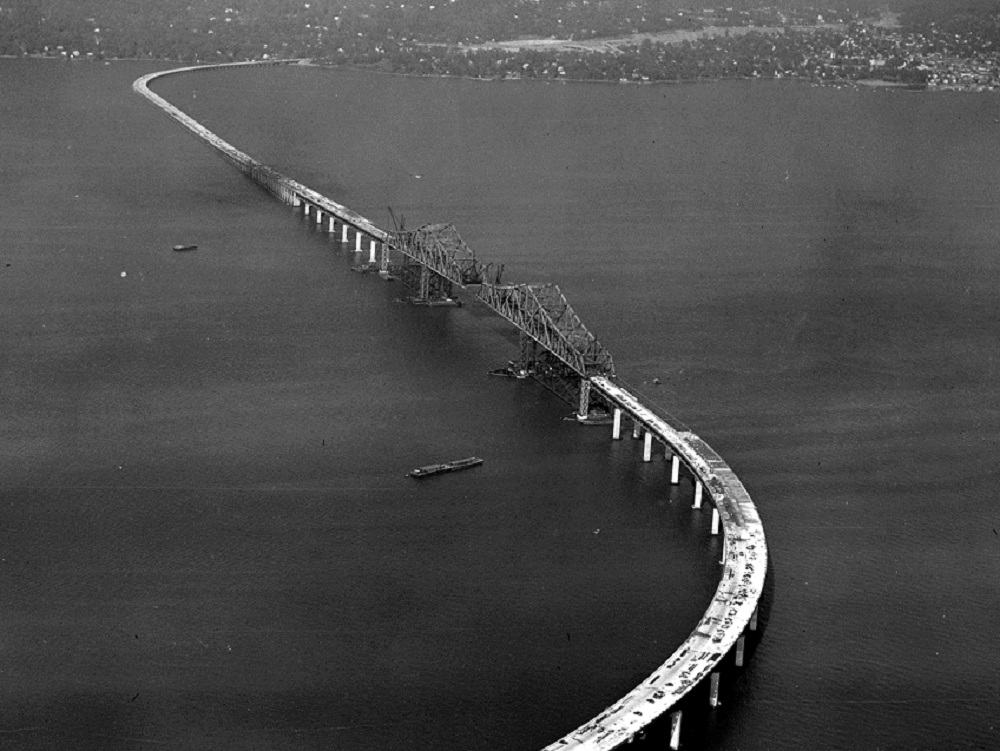 It was in the 1920's that plans began for the bridge that would eventually be called the Tappan Zee Bridge. After World War II, the need for a bridge connecting Rockland and Westchester Counties became apparent due to demands on the regional highway system. Plans started moving forward in 1950 when the New York State Thruway Authority (NYSTA) was established to oversee the construction of a major highway connecting New York State. A major crossing of the Hudson was a necessary element of the highway's continued expansion. Work on the bridge began in March 1952 and in December 1955, the bridge was completed and opened to the public. It was dubbed "Tappan Zee" after the area's pre-colonial days: Tappan, after the Native American tribe, and Zee, the Dutch word for sea. It is a fitting name, as the bridge crosses the Hudson and one of its widest points.
The bridge was constructed by erecting the anchor (flanking) spans on falsework trusses and cantilevering the 1,212-foot mainspan from both directions. The 20 deck truss approach spans were constructed at an on-land yard facility and floated into place. Each span was about 250 feet long by 64 feet wide by 26 feet deep and weighed 830 tons. The Tappan Zee Bridge was a total 48,896 tons.
This bridge is a 2,415 foot cantilevered truss that carries seven lanes of traffic across the Hudson River in New York City. Of the seven lanes, the middle lane has the ability to switch directions depending on traffic needs. The bridge was designed to carry 100,000 vehicles per day, however traffic volumes have grown to about 138,000 per day making the need for the new bridge apparent; even with the extra adaptable lane traffic still occurs frequently as it is one of the primary crossings of the Hudson River for residents, commuters, and travelers.
In 2013, the NYSTA selected the Joint Venture, Tappan Zee Constructors (TZC), to replace the original truss bridge with a more modern cable-stayed bridge. TZC consists of Fluor, American Bridge, Traylor Bros., and Granite Construction and are currently constructing the new structure just north of the existing bridge.
Project Details
Owner: New York State Thruway Authority
Location: Nyack, New York
Completion Date: December 1955
Structure Type: Bridge
Delivery Model: Design-Bid-Build