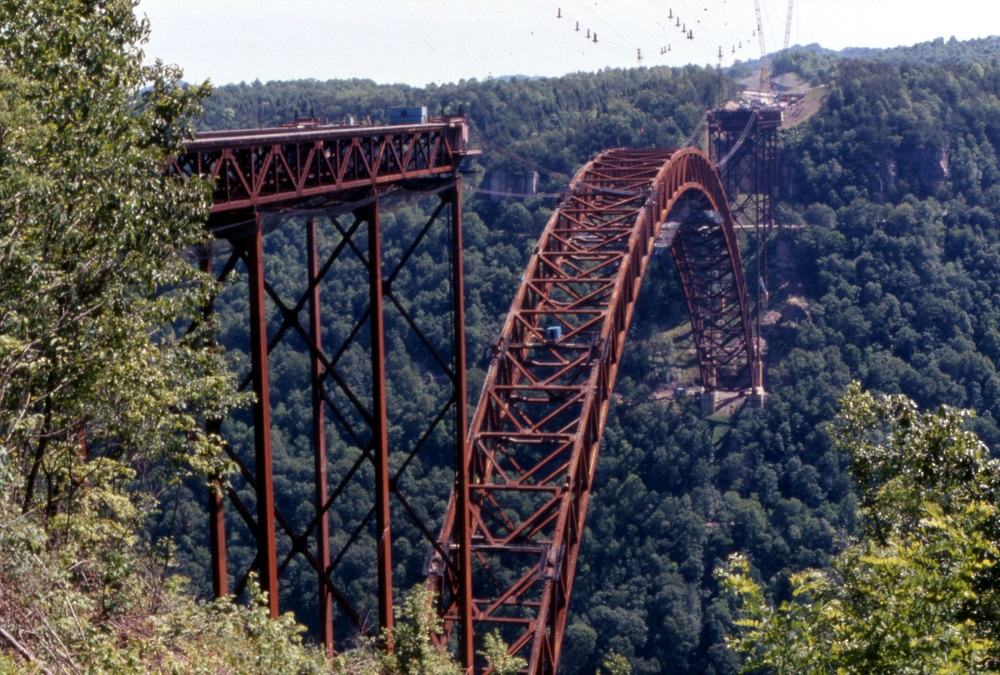 American Bridge was general contractor, fabricator, steel erector, and was responsible for performing all temporary engineering works for this 3,030-foot, two hinged, deck arch bridge. Situated across the picturesque New River Gorge, the deck sits 900 feet above river elevation, and the arch itself has a 370-foot rise. The CorTen weathering steel was fabricated by American Bridge.
Due to the challenging geography of the gorge, American Bridge had to devise innovative construction means and methods. American Bridge designed and built a four tower, dual cableway crane system across the 3,500-foot gorge with the aid of a helicopter. The cableway would later carry components weighing close to 100 tons. The towers for the cableway were 330 feet tall, and the cableway utilized 22 miles of wire rope in total. The cableway, still owned by American Bridge, was later used to construct the Glade Creek Bridge, also in West Virginia. The towers more recently served to tie back the Korean Veterans Memorial Bridge in Tennessee during construction.
Erection of the land bents and approach spans were completed first. Then, the arch trusses were cantilevered out from both sides of the gorge, supported by a temporary tieback system. After joining the arch trusses at mid-span, the tieback system was removed and erection of the bents on top of the arch followed. Finally, the arch deck trusses were erected, completing the structural steel component.
American Bridge's deck level tieback system, used to restrain the uncompleted arch, was constructed of high-strength pipe material anchored to gravity blocks. This eliminated the need for tieback anchors, a major cost savings. The arch weighed 10,533 tons and another 11,470 tons of steel was used to complete the superstructure.
Recognized in 1977 by the National Society of Professional Engineers as one of the Ten Outstanding Engineering Achievements in the United States, New River Gorge remains the world's fourth longest arch bridge, and one of the tallest. In 2013, the bridge was listed in the National Register of Historic Places as a site of significance by the National Park Service. The bridge was also selected by West Virginia to be featured on a commemorative coin produced by the US Mint, and was chosen the residents of the state to be featured on the state's quarter. It is one of the most photographed sites in West Virginia.
Bridge Day, an annual event, allows BASE jumpers, rappelers, and other bridge enthusiasts a chance to view the bridge from all angles (including from below).
Project Details
Owner: West Virginia Department of Transportation
Location: Fayetteville, West Virginia
Completion Date: October 1977
Structure Type: Bridge
Delivery Model: Design-Bid-Build