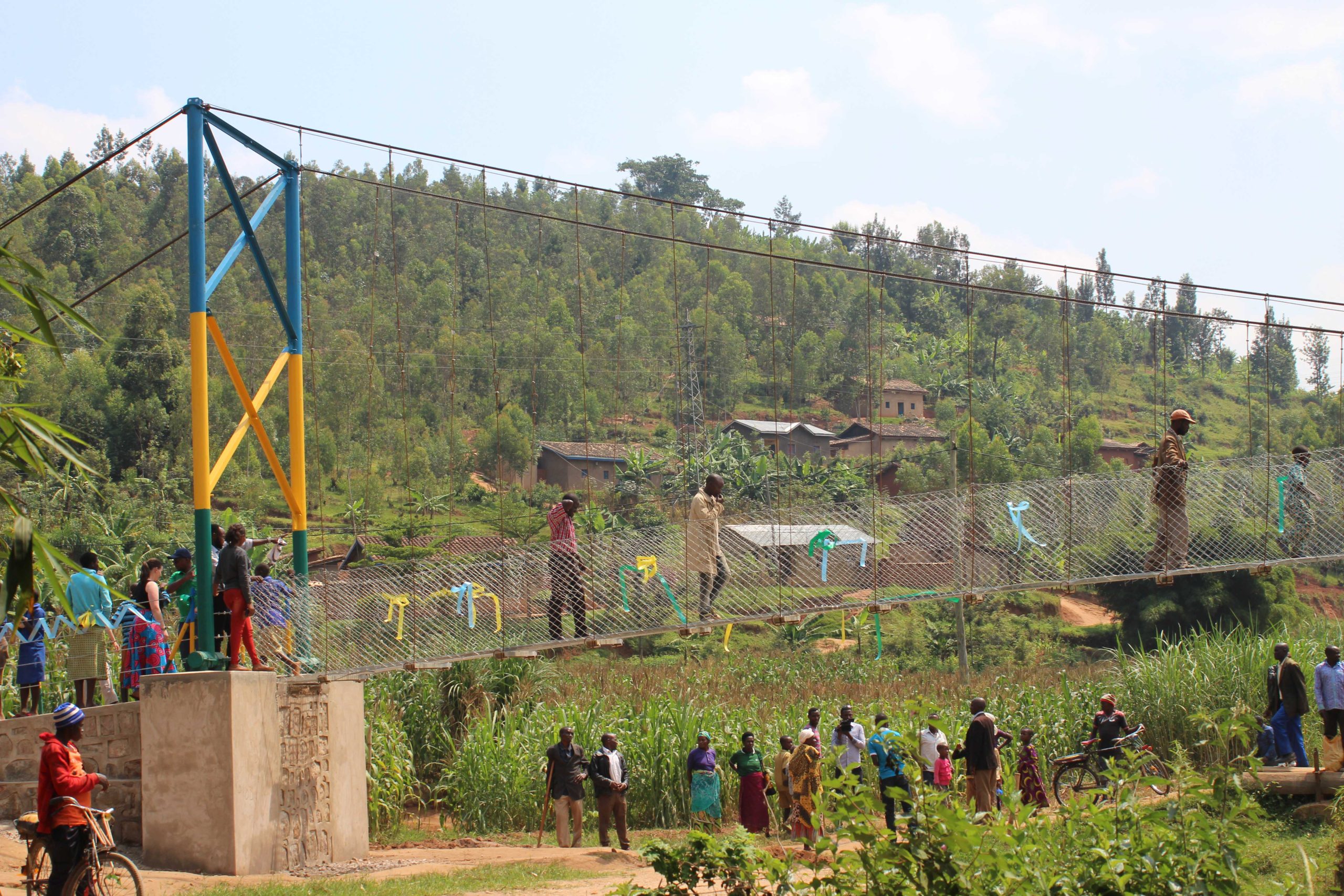 In Karambi, Rwanda, getting to work, school, healthcare, and markets can be nearly impossible, depending on the weather. Residents have been forced to cross the Mwogo River during heavy rains, or forego daily essentials. In 2019, Bridges to Prosperity (B2P) identified this crossing for one of their pedestrian suspension bridges. American Bridge and partner WSP were tapped to construct the span that would provide a safe crossing no matter the weather.
Five employees from AB made up the Company's portion of the team. Before arriving on-site, the group studied the drawings, discussed means and methods, and developed work plans. Particular attention was paid to equipment selection. Due to the remote location, the team had to bring the necessary tools with them, including spares.
The bridge is a 164 foot suspension span. In a first for B2P, the bridge features steel decking, instead of the traditional wood planks. Steel decking provides a significant advantage in terms of maintenance and installation. Where wood decking would need to be replaced every four to five years, steel grating is expected to far exceed that.
After arriving on-site, the team met with the local work force, performed an initial inventory of all equipment and materials, and completed a dimensional verification of the fabricated pieces and as-built foundations. Construction began with suspender fabrication and assembly with crossbeams, and building falsework for and assembling the towers in a horizontal position. Next, the first tower was tripped up as suspender fabrication and assembly continued. On the fourth day of the project, the second tower came vertical and all four main cable strands were installed with the sag set. After that, the suspender-crossbeam assemblies were launched and the suspender restraint cables were anchored. The new steel decking was installed, along with a safety fence that would prevent anything from falling off the sides of the span. Last on the checklist was site cleanup – and then the bridge opening celebration could begin!
The Mwogo River Bridge project was featured in AB Connections Issue #1011. Visit B2P's website to learn more about their mission and other builds around the world.
Project Details
Partners: Bridges to Prosperity, WSP USA/Louis Berger Foundation
Location: Karambi, Rwanda
Completion Date: July 2019
Structure Type: Suspension Bridge