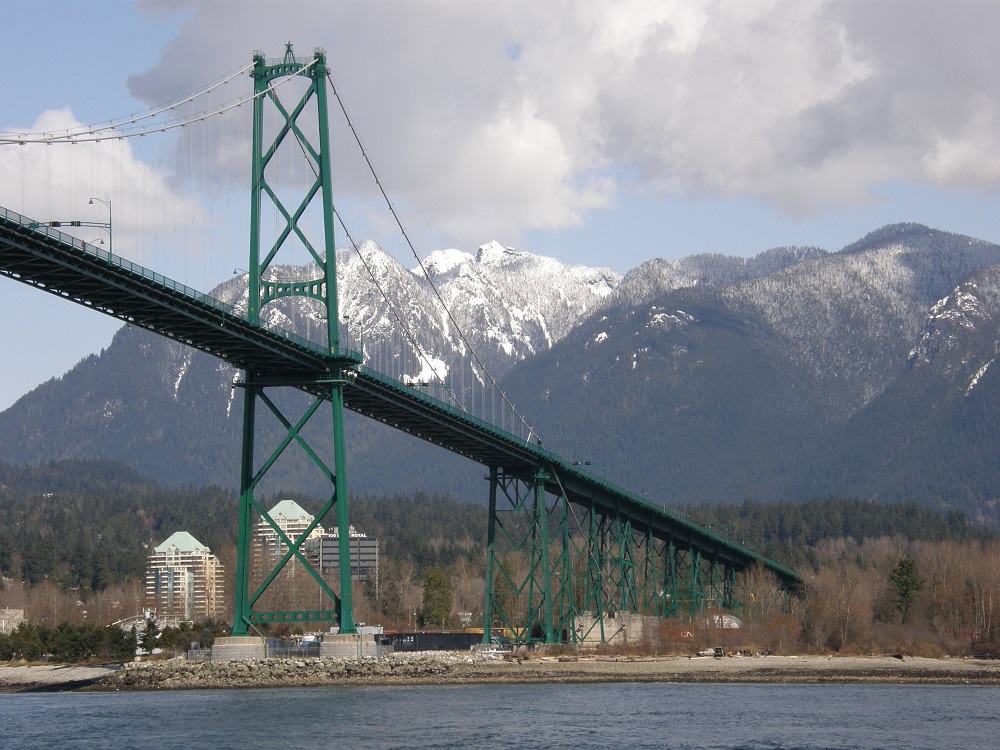 American Bridge Company was the general contractor for the reconstruction of the Lions Gate Bridge, a 2,779 foot suspension crossing in Vancouver, British Columbia. The work included the removal of the entire stiffening truss and replacement with a deck truss with an orthotropic deck. The bridge remained fully operational throughout construction, with work being undertaken over limited nighttime and certain weekend closures. This marked the first time that the suspended spans of a suspension bridge were replaced while keeping the bridge open to traffic. American Bridge's scope of work also included new expansion dams, the replacement of all 162 hangers, and the replacement of cable band bolts. The work also included the addition of three new maintenance travelers, powered by a diesel generator and electric motors and containing a scissor lift.
There were numerous innovations in the approach of implementing this difficult project. American Bridge engineers developed a custom lifting gantry for lowering existing 40 by 65.5 foot stiffening truss sections to the water and raising the new 53 by 65.5 foot, 100 ton sections. The gantry spanned the section of old truss to be removed, riding on the sidewalk of the adjacent old bridge section and on the deck of the adjacent new section. The gantry was equipped with six strand jacks, four of which were used to lift the old and new trusses from the water or land below and two were spares.
Within the same contract, the seismic upgrade of the North Approach viaduct was undertaken on a design-build basis including ground improvement, pile supported spread footer encasement, steel bent strengthening, new deck girder diaphragms, restrainer installation and abutment bearing replacement.
The work also included the upgrade of the 1.2 mile Stanley Park Causeway including new utility installation, retaining wall construction, landscaping, new sidewalk/bike path construction and roadway widening and resurfacing. The roadway work included saw cutting and repair of the roadway base in specified locations, widening, and resurfacing. Utility work included the installation of new electrical conduit and lighting fixtures, and a new storm and sub soil drainage system including oil/water separators. In addition, the existing lane control system and traffic surveillance system were reconstructed. Existing utilities contained in the right of way had to be located using soft dig procedures, and protected throughout the construction. Extensive environmental protection measures were designed and implemented to control and clean the flow of groundwater into Burrard Inlet. This included temporary retention and settlement basins, controlled drainage pathways, and other measures to protect vegetation, trees, shellfish, starfish, fish, and marine vegetation in Stanley Park and its shoreline.
Project Details
Owner: British Columbia Transportation Authority
Location: Vancouver, British Columbia, Canada
Project Value: $70M
Completion Date: August 2008
Structure Type: Bridge
Delivery Model: General Contractor (stiffening truss) / Design-Build (seismic upgrade)