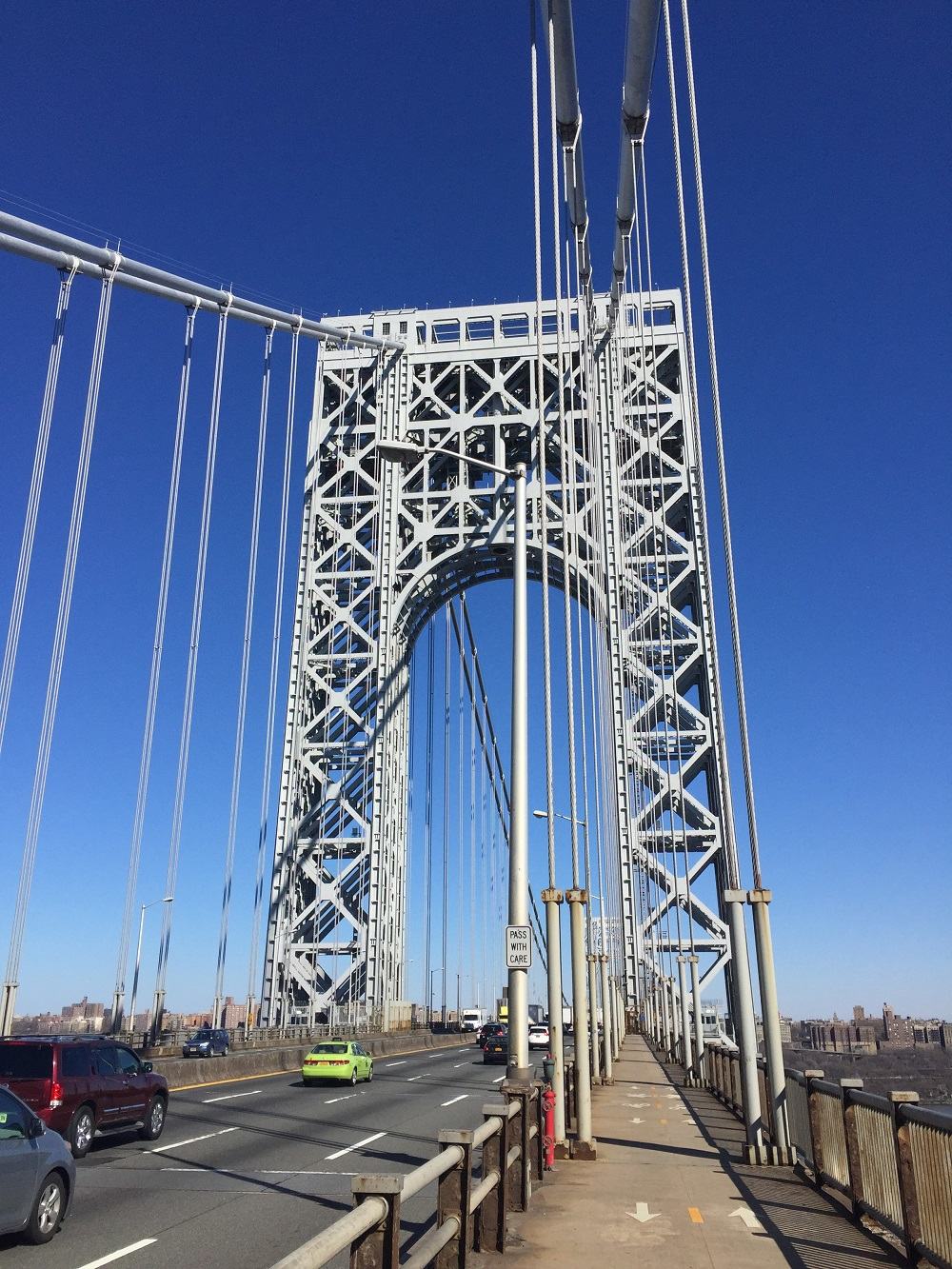 In 2011, American Bridge was awarded a contract to rehabilitate the upper level deck of the George Washington Bridge (GWB) in New York City. This two-tower suspension bridge spanning New York and New Jersey has an annual traffic volume of 102 million vehicles, making it the world's busiest automotive bridge. To avoid snarling traffic for daytime commuters, the American Bridge team completed work on the nearly $120M project in overnight closures.
This project involved the removal of portions of the upper level orthotropic deck along each side of the main floor beams and replacing them with prefabricated, prepaved six foot wide orthotropic deck panels at 79 panel points. Secondary floorbeams were replaced, and structural steel members were repaired at various locations and included replacing missing bolts and corroded rivets, repairing corroded members, and repairing cracks. American Bridge performed ultrasonic peening to orthotropic deck welds at over 50,000 locations and installed drainage scuppers and appurtenances at approximately 140 locations along the bridge. American Bridge was also responsible for incidental lead abatement, design and installation of temporary work platforms under the upper level deck.
American Bridge also repaved of the westbound upper level asphalt surfaced steel bridge deck with approximately 2,600 tons of Rosphalt 50 asphalt mix and the rehabilitated finger joints. In addition to the upper level rehabilitation construction, AB was in charge of the temporary relocation and restoration of associated utilities such as sign structures, conduits, traffic counting devices, the maintenance of traffic for ramp closures, detours and lane closures, the provision of temporary barriers, temporary pavement markings, and other typical devices to provide adequate protection for both workers and the traveling public.
Project Details
Owner: Port Authority of New York and New Jersey
Location: New York, New York
Project Value: $119.7M
Completion Date: June 2015
Structure Type: Bridge
Delivery Model: Design-Bid-Build