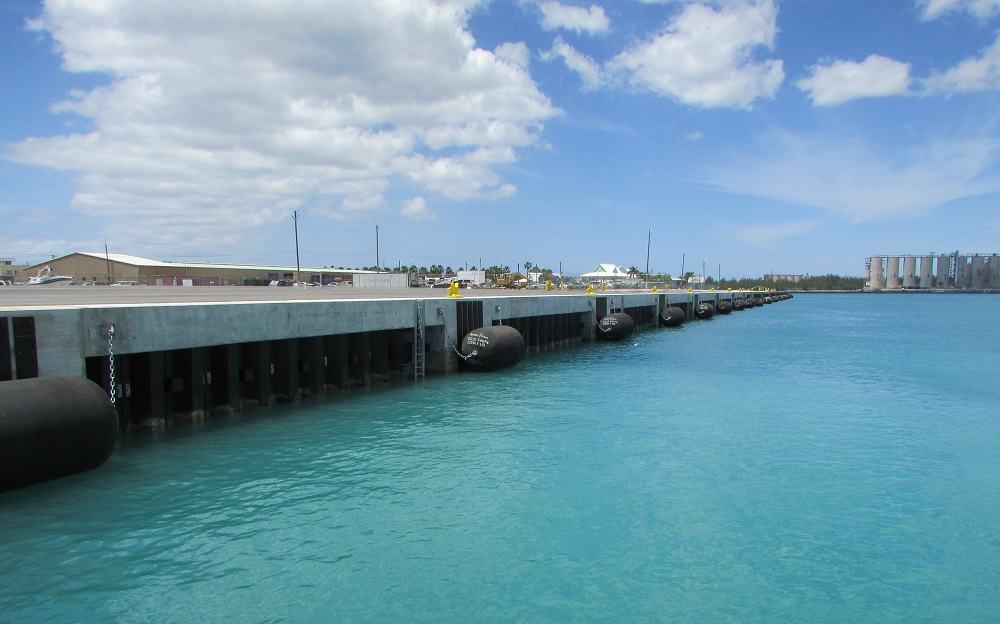 The Freeport Harbour Berths 3, 8, and 9 Refurbishment contract was awarded to American Bridge in 2014 by the Freeport Harbour Company. Freeport is the deepest port in the Bahamas and is one of the largest man-made harbors in the world. The Freeport Harbour Company is well-known for its cruise and day ferry visits, car transshipment, wet docking, and ship repair facilities. By having a parcel large enough to accommodate three cruise ships, five roll-on/roll-off vessels, and two 900-ft wet-docking berths, the Freeport Harbour Company also has the ability to facilitate Cruise lines of up to 1,000 feet in overall length.
American Bridge's scope of work included rehabilitation efforts on two separate, existing berths. Berth 3 is located on the northeastern face of Basin 1 within the harbor. The berth is 669 feet in length, with a maintained water depth of approximately 30 feet. Berth 3 is a cruise terminal berthing that is natural rock and had experienced fatigue at several of the point areas. AB removed the upper six feet landside of the wall, and drove steel sheets in the front of the existing wall. Tie backs were installed, concrete placed in the annulus behind the wall, and the area was backfilled and asphalted.
Berths 8 and 9 are located on the South face of Basin 2 and primarily service commercial shipping. The berths comprise 500 feet of quay length, and have a maintained water depth of 16 feet at the return wall, increasing to 33 at the interface with Berth 7. The existing wall is a combo wall which was removed to El 0. A new sheet pile wall was installed in front of the existing sheets, along with a tie back system and concrete fill in the annulus behind the sheet pile wall. American Bridge finished the land side area with fill and asphalt.
Project Details
Owner: Freeport Harbour Company Ltd.
Location: Freeport, Bahamas
Project Value: $16.6M
Completion Date: October 2015
Structure Type: Marine
Delivery Model: Design-Bid-Build