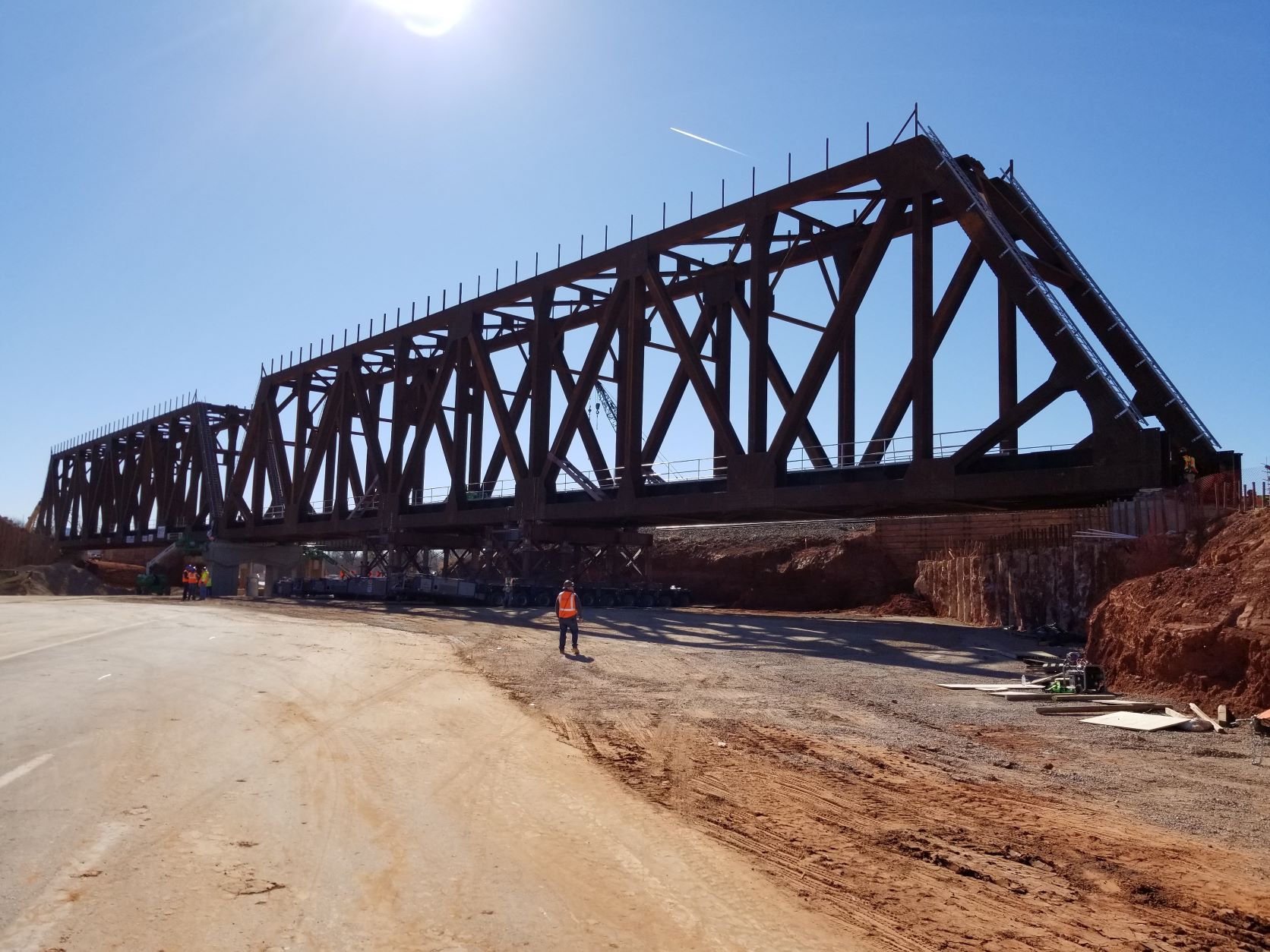 In widening I-235 from four lanes to six, a key girder bridge that carried BNSF Railroad tracks became an obstacle. The bridge's three piers tightly framed the existing highway, meaning that the structure had to be replaced entirely. AB was awarded the specialized scope of work from the overall widening project's general contractor, Allen Contracting.
The project had to be completed while minimizing full highway closures and AB chose to utilize Accelerated Bridge Construction. The owner's original scheme called for two weekend closures of the interstate – one for each truss span installation. Contract documents prohibited the trusses from being stick-built and limiting lane availability for any significant duration. AB developed an innovative plan to accelerate the work and complete the roll-in tasks during a single weekend closure.
To avoid impacting traffic, AB worked off-site at a nearby staging yard. During erection, the two individual trusses were assembled in the vertical position. The truss sat only three feet above the ground, making it easy to access the bottom chord and floor system to facilitate bolt up and welding. The two individual trusses are nearly identical, coming in at 275 feet long, 21 feet wide, and 44 feet tall. Each weighs 950 tons and contains more than 55,000 permanent bolts.
To get the trusses from the staging area to the installation point, nearly a quarter-mile of the highway would have to be traversed. AB decided to use SPMTs which shortened the typical installation from months to a single, three-day weekend closure. Not only did it drastically reduce the impacts to I-235 commuters, but it also had no impact on BNSF rail traffic during installation.
AB performed several precursory activities to address risks and develop preemptive solutions. A 3D model was made of the area around the railroad alignment at the time of the roll-in. A detailed route was planned by AB's in-house engineering, which accounted for every movement and turn to get the truss to the correct alignment at the bridge site. This allowed the team to check that the trusses could indeed be maneuvered into place safely. Close attention was paid to subsurface conditions and elevations. AB performed a thorough work planning exercise, identifying potential risks and ways to mitigate them which led to I-235 being opened a day early and in time for the Monday morning rush hour.
Project Details
Owner: Oklahoma Department of Transportation
Location: Oklahoma City, Oklahoma
Project Value: $12.5
Completion Date: March 2018
Delivery Model: Bid-Build
Structure Type: Truss Bridge