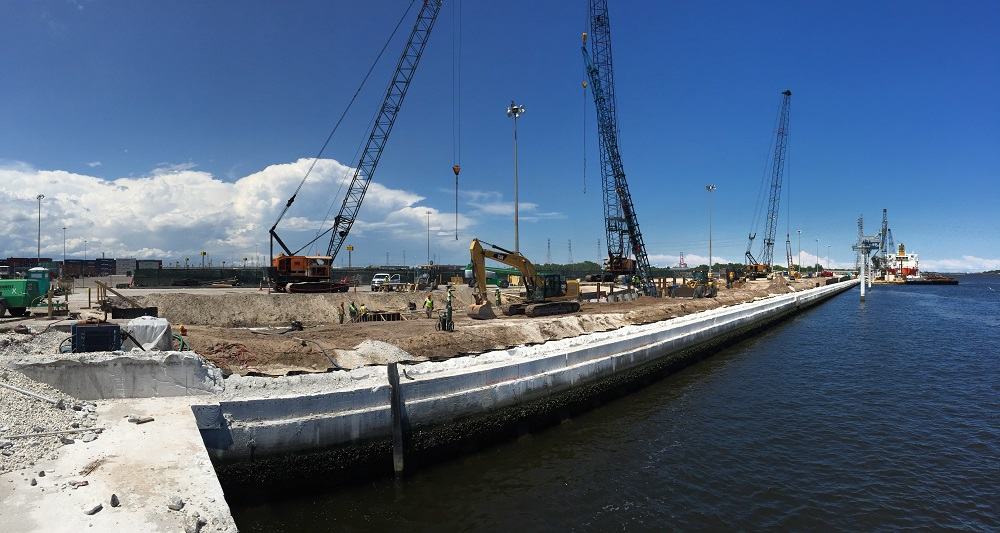 In 2015, American Bridge was awarded the Blount Island Marine Terminal Reconstruction in Jacksonville, Florida for the Jacksonville Port Authority (JaxPort). Blount Island is JaxPort's largest marine facility with over 7,000 lineal feet of deep water berths, and one of the largest vehicle import/export centers in the United States. The project involved the demolition and reconstruction of approximately 1,285 linear feet of existing marginal wharf at the eastern end of the site. The work included demolition and removal of the existing ballasted wharf deck, crane beams, bent caps, piles, and ancillary items such as the existing fenders, bollards, waterside utility vaults, crane tie downs, crane stops, and rail road track, as well as select demolition of the existing bulkhead. Demolition behind the wharf included the removal of an existing fence, high mast light poles, and select asphalt pavement removal necessary to accommodate reconstruction of the wharf.
The reconstructed wharf includes a tied-back steel sheet pile bulkhead and a new pile-supported concrete wharf deck with an asphalt wearing surface. The new wharf primarily consists of precast concrete panels that span between cast-in-place concrete bent caps supported on driven concrete piles. Cast-in-place concrete was utilized to facilitate the installation of utility vaults, trench drain, railroad track, mooring bollards, fender system, crane tie-downs, and crane rails for the existing 50-foot-gauge ship-to-shore (STS) cranes and future 100-foot-gauge STS cranes. The wharf was also outfitted with crane cable anchor pits and a cable trough to support the electrification of the future cranes.
Improvements behind the wharf include a new fence, asphalt paving, pavement markings, and relocation of, and modifications to, the existing fire water and potable water systems. The electrical system for wharf power, including crane electrification, included the installation of new switchgear and crane feeder cables that extend out to the waterfront crane cable anchor pits. The switchgear also feeds 13.2 kV power to transformers that provide low voltage power to the STS cranes (208V and 480V) and high mast light poles.
The electrical system improvements also included a 2 story concrete building to house the new switchgear that feeds the wharf side cranes, equipment for the Project, and future expansion.
The project team utilized the in-house engineering capabilities at American Bridge to design stripping caddies fabricated from steel beams to aid in demolition, crane-barge stability and load capacity charts, and design spreader beams to pick pre-tied 100' long reinforcing steel cages for the bent caps.
Schedule is a major challenge on this project, which required the removal and replacement of 980 each 24-inch square concrete piles, the installation of 1,500 LF of steel sheet piles with concrete bulkhead cap, and the placement of 11,500 cy of structural concrete in 16 months. This hurdle was overcome by planning and sequencing five cranes working in phases to demolish the existing wharf and start construction immediately thereafter.
Project Details
Owner: The Jacksonville Port Authority
Location: Jacksonville, Florida
Project Value: $45.6M
Completion Date: September 2016
Structure Type: Marine
Delivery Model: Design-Bid-Build